About
over 30 years of celebrating success
The plc awards was founded in 1987 and is usually held every year in March. These awards are open to all those companies listed on the Main Market of the London Stock Exchange – colloquially known as the "plc club". The success of the awards has led to it being broadened out to include FTSE100 companies as well as the FTSE250, FTSE Small Cap and Fledgling indices. Our aim is to truly make it 'the' City event of the year and to allow all Main Market publicly quoted companies, of whatever size, the chance to be rewarded and recognised for their successes and achievements.
Once again, this year we have widened the criteria for each category to give full emphasis to ESG practices – covering well known environmental issues, along with social issues and governance matters. Due regard will be given to adherence to current ESG Best Practice and any demonstrable ESG policies that have directly impacted decision making.
The event is attended by plc company chairmen, CEOs, CFOs, investment bankers, fund managers, analysts, IR executives, corporate advisers and pre-IPO companies.
Awards
covering the period 1 January 2023 to 31 December 2023
nominations are open
click on each award below to view more information
best investor communication award
Sponsored by:
transaction of the year award
Sponsored by:
growth business of the year award
Sponsored by:
tech business of the year award
Sponsored by:
transformation of the year award
Sponsored by:
fund manager award
Sponsored by:
breakthrough of the year award
Sponsored by:
CEO of the year award
Sponsored by:

new company of the year award
Sponsored by:
company of the year award
Sponsored by:
Voting panel
The voting panel will meet to discuss this year's nominations on Thursday 25 January 2024.
Members of the full 2023 Voting Panel will be announced on this page in due course.
Click below to see judges from past events.
the 2022 voting panel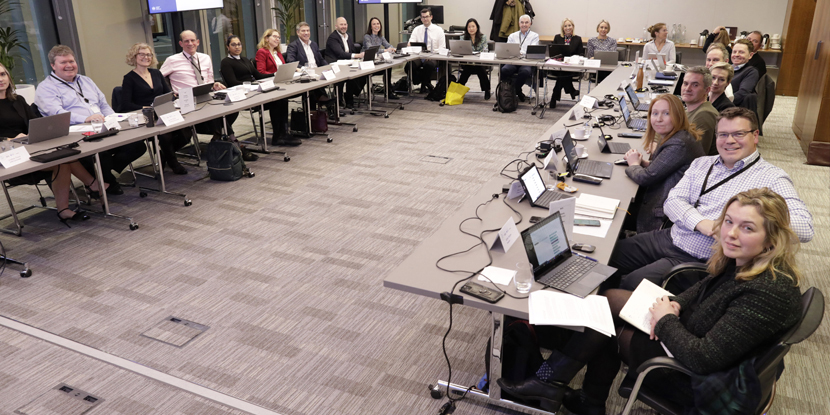 The event
---
Sponsorship
Sponsorship opportunities sometimes become available, including sponsorship of an individual award, sponsorship of the official drinks reception or sponsorship of the menu. Sponsorship opportunities are, by their very nature, limited. Costs and availability on request.
---
Hosting a table
Reservations are available for tables of ten people. Numbers are strictly limited and reservations are taken on a first come, first served basis.
---
Advertising
Advertising in the digital brochure is welcomed and enables your key messages to reach a highly targeted audience. The digital event brochure is available to download on the night and contains details of the all nominees, the programme for the night and the menu. Uniquely, it also contains the names of all attendees, in alphabetical and table order. Thus it is widely used as a reference post event for up to a year afterwards.
---
Bespoke sponsorship opportunities
We offer a range of bespoke sponsorship packages, tailor made to suit your marketing objectives and budget. Further information on request.
---
Key details for guests
Ballroom, Hotel InterContinental
One Hamilton Place
Park Lane
London W1J 7QY
6.00 p.m. – drinks reception
7.30 p.m. – dinner
12.00 midnight – carriages
A charity collection will be taken up during the course of the evening and the plc awards team will be available throughout to accept contactless donations. Thank you in advance for your generosity.
Hotel InterContinental
Exclusive rates for bedrooms may be available for guests attending the event and further information will be available in due course.
Charity
Since formation in 1987, the plc awards has held a charity collection principally for the benefit of child-focused charities. The total amount of money raised to date by attendees at plc awards dinners is over £600,000. Thank you so much for your generosity – the charities concerned are all extremely grateful.
A charity collection was held at the plc awards 2022 and the total amount raised, which was split equally between our supported charities, bccs and Action for Children, was
£7,422

---

One in every ten children has a diagnosable mental health disorder – that's roughly three in every classroom. A recent survey conducted also found 22% of girls and 9% of boys were self-harming. These alarming statistics demonstrate just how important it is to look after children's mental health.
bccs is a children's charity covering East London and Essex, with the primary focus of providing counselling for children and young adults whose wellbeing, mental or emotional health is at risk.
---

At Action for Children our vision is that every child and young person has a safe and happy childhood, and the foundations they need to thrive. We protect and support children and young people by providing practical and emotional care and support, ensuring their voices are heard and we campaign to bring lasting improvements to their lives.
For more than 150 years, Action for Children has been providing a range of expert services to support the UK's most vulnerable children. Last year, we helped 671,275 children, young people and families across the UK. We did this through our 477 services in local communities across the UK, in schools and online. Our work includes placements for children and young people in care, emergency grants, practical parenting advice and much more.
For more information, please visit
ww.actionforchildren.org.uk
Gallery
images from plc awards 2022 – please click here to see more